Leaving Ko Samui, we made our way to Ko Phangan. We took the high speed cataram ferry, Lompreyah, from Mae Nam on Samui to Thongsala on Phangan. The ferry was very different from others I've been on: it's a small passenger ferry and it goes really fast. It took maybe 2 minutes to reach its planing speed and was fairly bouncy in the water. We chose this ferry not for its speed but because its departure pier was closest to Bo Phut. The ferry cost a bit more than others, but the cost for the taxi from Bo Phut to the pier was cheaper than other piers used by other ferry companies. I'd never been to Ko Phagnan before and we weren't entirely sure which beaches to visit. We eventually settled on a plan by process of elimination. On of the biggest and most popular beaches is Had Rin, on the southern tip. It's where they have the full moon parties and I think it's probably where many of the younger backpackers go. I hadn't read anything really great about the beach itself, so we gave it a pass. There are foir more main sections of beaches to choose from: north of Had Rin, the wast, the north and the northeast. We decided to visit the last three of these areas.
First up was the west. We chose this first because it is closest to where the ferry lands at Thongsala. We chose Had Salad because of reviews we had read, and stayed at Double Duke Bungalows. It turned out that Had Salad and Bo Phut have some similarities. Both beaches seem to have only one less expensive bungalow operation, and both beaches are predominately visited by people from France. Had Salad was very pretty with beautiful sand and clear blue water. The area is like a small cove with a breakwater, and the water is very shallow. This wasn't the greatest for full out swimming but it was really nice for snorkeling. We saw lots of different fish, some corals, sea urchins and hundreds of sea cucumbers (sometimes referred to as "sea turds").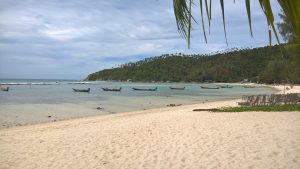 To check out the area around Salad, Grady and I walked to the beach just south, called Had Yao, one day. It was nice, but clearly we made the right choice with Salad.
I'd definitely recommend Had Salad to visitors, but I wonder how long Double Duke will be there. Most of the other hotels fall into the "resort" category, and while they'd be great to stay at, I think they cost close to $200/night. It didn't seem like Had Salad was on the backpackers/travelers radar, we mostly saw older couples and families. Grady met some French boys and they hung out a bit playing Pokémon Go. For such a small beach, there was a lot of Pokemon action.
From Salad we made our way to Bottle Beach. It was described as being secluded and quiet. I was a bit nervous about it being "too quiet", and we booked ahead for only two nights. Our hotel was a bit more expensive than previous ones and was pretty booked up, so we could only have two nights there. Most people arrive to Bottle Beach by boat and that's what we did. First we took a taxi to Chaluk Lum, a small fishing village on the north of Phangan, and then we took a longtail boat to Bottle Beach. I was originally going to hike from Chaluk Lum to BB. The trail goes up over a steep hill with a apparently some nice views along the way, and takes about an hour. However, our taxi driver didn't want to drive me to the end of the road where the trail starts. I didn't feel like walking for half an hour down an open dirt road, so I jumped on the longtail boat with everyone else.
Pulling into Bottle Beach was beautiful. The beach is a small crescent lined with white sand. Our resort, Bottle Beach 1 (yes, there's a Bottle Beach 2), was right on the beach. Two of the resorts are in the beach, and the two at either end are set back a bit. Our rooms were "beach view" and in fact they were right on the front of the beach. Normally I don't care about that kind of thing too much, but in this setting it was perfect.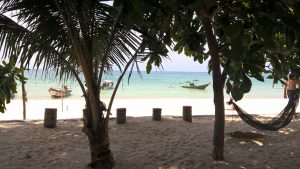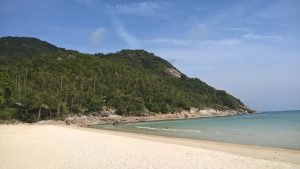 The water was clear and warm and we spent two days lounging around, swimming in the ocean, reading on our deck, and even swimming in the pool a bit.
I think we were all a bit bummed to have to leave BB after only two nights, but that's how it goes. The one down side to Bottle Beach is that the whole beach gets filled with longtail boats from about noon to 4pm. You can swim around them because they're about 8 m apart, but it does take away from the beach a bit. The mornings and evenings are lovely though.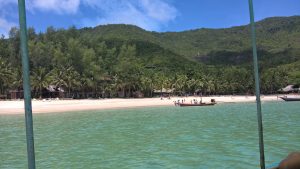 We then took another longtail from Bottle Beach to the next beach down the coast, Thong Nai Pan Noi. There were three beaches in a row that all sounded pretty good: Thong Nai Pan Noi, Thong Nai Pan Yai, and Had Salat. Salat looked the coolest but some of the accommodation is on a hill which could make it hard for Emma's foot and the beach was described as not having much shade. Noi was described as more developed than Yai, but that it maybe had the best beach on Phangan.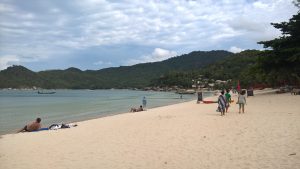 Thong Nai Pan Noi's beach did not disappoint. I imagine that 10 years ago it would be THE best beach to visit. However, we liked the feeling of the quieter Bottle Beach a bit more. The development on TNP Noi was tasteful and the beach itself during the day was actually quieter than Bottle Beach (less boats). I had read about noisy jet skis and our hotel had a note in it asking that visitors do not use jet skis because it threatens the environment. In fact we didn't see a single jet ski in the area so I assume that somehow they've been banned.
From our hotel, Grady and I walked to TNP Yai one day. This beach was quieter than Noi but not as pretty. I think it offers a few good places for backpackers to stay at the south end. It would be a good beach to stay at as well.
TNP Noi had one thing very unique from what we had seen so far: less French amd more Italians!
As I write this we're on a ferry back to Surat Thani. We left TNP this morning and took a taxi to Thongsala. At the pier we purchased tickets on the Raja ferry. Raja are larger car ferries and there's no need to book ahead. At the pier there is the "Phangan Tour" ticket booth which sells ferry/bus ticket combos that will take us to the center of Surat Thani, about 200 m from My Place, where we're spending the night. Raja is said to be a slower ferry, but in reality it won't make much difference. It's 4 hours start to finish compared to Lompreyah's 3.5 hours. Lompreyah stops in Samui along the way, while this ferry does not (we're on the 11 am ferry, maybe the later ferries also stop at Samui?). The schedule for the Raja is better too, we showed up at the pier at 10:30 and didn't have to wait around at all. The price is also a lot cheaper, 310B compared to 550B. Finally, the ride is a lot smoother in rougher seas because the boat is so much bigger.
So it's one night in Surat Thani and then we fly to Bangkok tomorrow. We originally were going to travel overland from the south to Bangkok but we decided that the family would prefer to go from relaxed beach straight to Bangkok and avoid the small challenges that overland brings. In light of the recent bombings in Hua Hin and Surat Thani, I guess flying is also better than stopping in Prachuap Kiri Khan. Unfortunately it's one more area that I didn't get to visit in 1991 that I will also miss this time.