The second half of our trip is in the south, in the Gulf if Thailand. We decided to visit two islands, Ko Samui and Ko Phangan. This part of Thailand has its rainy season end in June, so it's maybe the best place to visit in July and August. We opted to fly from CM to Surat Thani (the main gateway to Ko Samui) because it is only a few more dollars than bus but takes a fraction of the time.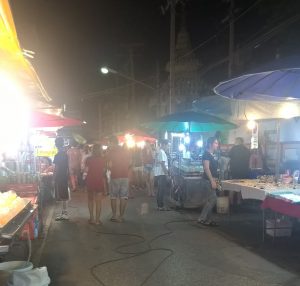 We spent one night in Surat Thani itself. I imagine most people think that even a few hours in ST would be a fee hours wasted, but this small city has its charm. The hotel we stayed at, My Place, was very good and inexpensive. As well, we arrived in a Friday which meant that we got to visit the night market which was only 40 m from our hotel. After being in busy and crammed markets in Bangkok and CM, this one was very relaxed. I managed to get myself a nice bowl of tom yum goong (spicy and sour shrimp soup). I think that if traveling by car, a person could spend a week in the area around Surat Thani.
The next day we took the ferry to Ko Samui. The trip was uneventful and we got a taxi at the pier to take us to our hotel in Bo Phut. This ride was maybe the biggest change I've seen in Thailand compared to my previous trip. The whole road to Bo Phut was lined with businesses and shops. 25 years ago it was all jungle. Not only had resorts increased in size but the entire coast was now commercialized.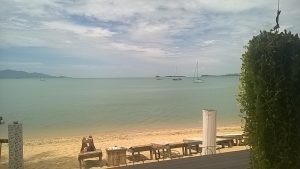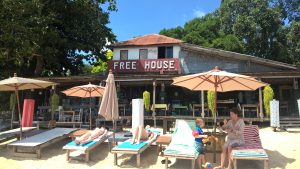 Bo Phut had a very nice beach which was pretty quiet and the water was great for swimming. We were near the western side at a bungalow operation called Free House. After exploring around for a few days it became apparent that Free House was about the only bungalow operation in the area. Everything else was fancy hotels. Maybe there were a couple of other small hotels but I didn't see them. We also learned that most of the resorts are owned by French. Just about every westerner we saw on the beach spoke French, that also has been surprising.
On our third day on Samui we grabbed a taxi and headed to Lamai, which is where I stayed last time. There's been a lot of growth in Lamai but that wasn't surprising. Beach front resorts and bars covered the whole beach and it was pretty busy. A town had built upon behind the beach with dozens of bars and restaurants. It was moments like this when you see the result of unfettered development. It's not that Lamai is busier than it used to be, it's that there are approximately three restaurants per visitor. Ok, I'm exaggerating but for sure the business growth is not self sustaining. There must be a continual cycle of businesses closing and opening. Lamai beach itself is still great. Beautiful long beach with soft sand and clear water. The south end was pretty quiet, so if you had the money that is where I'd stay. FWIW, I heard more languages than just French in Lamai. French and German dominate with a smattering of people from the Netherlands, Sweden, and the UK. I've hardly heard a Canadian or American accent, or Australian for that matter. There are signs in Russian all over the place but I have not heard a single person speaking Russian. I suspect that places like Samui are feeling the effects of global money problems. The owner at Free House also echoed this thought.
We lucked out on Samui. Bo Phut's nice beach and slow pace were perfect for the family. I'd recommend it to anyone, but keep your fingers crossed that places like Free House stay open. If you're backpacking then maybe Lamai is the next best option, I imagine there must be hostels/guesthouses behind the beach. This also makes me notice another change in Thailand. Hotels and guesthouses seem to cater more to older couples and families. Younger backpackers seem to stay more at hostels now. On my first trip to Thailand, I don't even think there was much of a hostel industry because the guesthouses were so cheap. That's not always the case anymore.