Elephant Sanctuary at Chiang Mai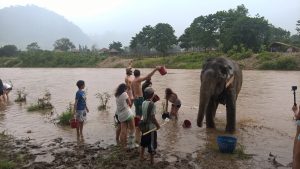 After returning to Chiang Mai we had a day booked at the Elephant Nature Park. We chose this elephant experience because the kids were quite keen on seeing elephants and this one in particular seemed quite ethical.
The sanctuary people picked us up at our hotel and it was an hour drive to their park. During the ride they showed a movie about how mistreated elephants ae in Asia. It was quite a disturbing movie, I think Emma may have cried a bit. I guess it was an ok introduction to what the sanctuary is all about. They buy elephants from people in Thailand, typically ones that are injured or too old or sick to work. In Thailand, elephants are used for logging and for tourists' enjoyment (circus, painting with their trunks, rides, etc). The movie depicts the elephants needing frequent punishment to keep them inline, and shows them as being extremely mentally disturbed. Good times.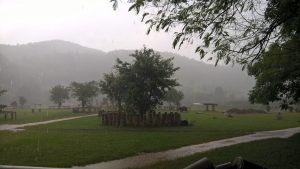 At the park we got to feed the elephants, see some baby elephants, and help bath them with water. No riding. I guess it's not a lot of "activities" but after it was all said and done, it felt very rewarding. Just as our tour was ending, the skies opened up with a bout of monsoon rain. I recommend the Elephant Nature Park.
The next day we left Chiang Mai. It was a nice city and the quieter "old city" made it seem smaller and more intimate. It's a great place to visit. Coming up next: Ko Samui.