After spending a few days in Chiang Mai, we decided to head out to the hills and spend a couple of days in a small town called Soppong (also called Pang Mapha). There is a well worn backpacking route from CM to Pai to Mae Hong Son, and Soppong is on this route about 1 hour past Pai. Pai has a huge backpacker scene, similar to Khao San road but apparently not many people stop in Soppong.
We went to the bus station and bought tickets for the minibus. The trip would take 4 hours. The first but was ok until we started heading into the hills. This road then gave new meaning to the words "switchback" and "twisty". I dont recall seeing anything quite like it. Luckily the road surface itself was new and smooth so it wasn't bumpy.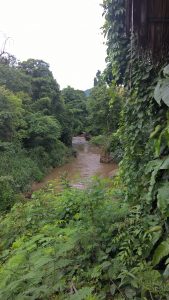 We made it to Soppong in one piece, but just barely. Everyone was feeling kind of yucky and the only thing that stopped motion sickness was the magic of Gravol. We stayed at guesthouse called Soppong River View, it was really nice. Our balconies overhung the river in a very picturesque setting. The rooms didn't have ac but it wasn't really needed with a fan and the cooler temperatures of the higher altitude.
The next day we hired a driver to take us around the area. First we went to Tham Lot and visited one of the big caves. We floated through the cave on a bamboo raft and got off a few times to hike up through branches of the cave.
After Tham Lot we drove through the valleys to see different viewpoints, including karst formations, rice fields, and a small village. I'll have to wait until I get to my computer before I can upload more images from my dSLR camera.
We only spent one more night in Soppong and then it was back to CM for a few more days and a trip to the elephant sanctuary.